Reading Time:
2
mins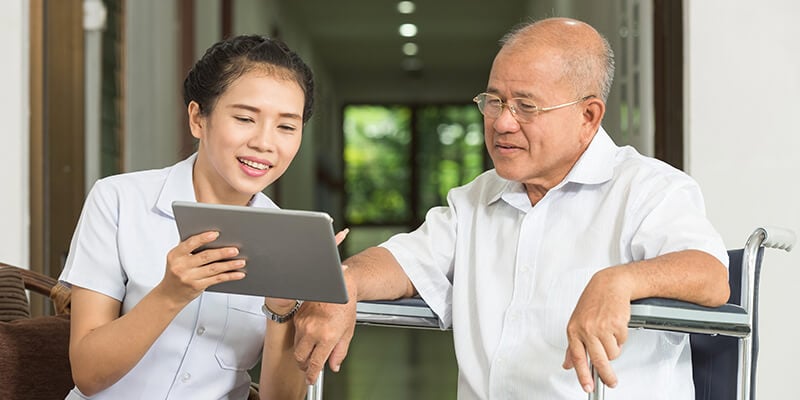 The elderly are becoming more and more reliant on technology. However, the very same devices that help them navigate the modern world daily can also be the way for caregivers to monitor and assist. While mobile devices enable them to live an ever-connected and more enriching lives, their experience in using certain applications and mobile phone features can cause them to fall into different kinds of online scams. A smartphone—while allowing seniors to communicate with their children who live far away or connect with friends and loved ones from around the world—can also be a doorway for different kinds of viruses, scams, harmful applications, and similar types of dangers. Fortunately, the same gadgets can serve as elderly monitoring devices or even a senior GPS tracker to help protect your elderly loved ones from these and other kinds of dangers. Consider installing these Senior Safety Apps in the smartphones of your senior parents if you want to keep an eye on them, even while you're far away.
The Senior Safety App will not only serve as a senior GPS tracker but also as elderly monitoring device to help watch over your elderly parents while letting them retain their independence. Apps like these essentially put GPS tracking device right in your loved ones' pocket, helping you keep tabs on their whereabouts at all times. This can be beneficial especially in cases where your elderly parents are prone to wandering and getting lost, yet prefer to go about their errands and/or take walks alone. Senior GPS trackers such as senior safety applications make senior tracking more discreet (as opposed to wearable accessories), giving seniors the sense of freedom and independence they crave.
With the help of elderly monitoring devices, your parents' mobile devices can easily be programmed to send alerts and notifications not only about their whereabouts but also about their activities. These mobile applications can send you to alert in case of falls and driving-related incidents. They can even be programmed with geofences or boundary lines to help you detect when your loved one has gone over or deviated from their set paths. This kind of senior GPS tracker ability is especially useful when caring for elderly people who may be prone to wandering and getting lost. Having a senior app installed on their mobile devices will help you keep an eye on their activities and locate them instantly should they stray from their typical routes.
Senior Safety App is an effective senior monitoring device without the need for any additional hardware. Simply install on your Android phone and configure alerts.